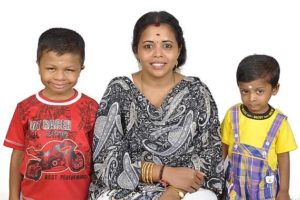 I am Sujatha SivaArasu. I would like to share my thoughts as a mother of two children with CYSTINOSIS.It all started on a press meet day whenmy elder son was diagnosed of having CYSTINOSIS.
My son Sanjey SivaArasu was diagnosed chronic kidney failure when he was 2yrs; we consulted many doctors around Chennai for years together, but found no improvement in his health. Finally, we reached MIOT and consulted the Nephrologist; He gave treatment to my son. He first cleared our parental anxiety and explained the current condition of Sanjey. His words gave confidence that we are in safe hands. Sanjey was under peritoneal dialysis for 2months. He was 7yrs when he had a complex Renal Transplantation. The surgery was considered extremely challenging as he was just 95cm (height) and weighed 13kgs. Dr.Rajan Ravichandran took daring steps to perform the surgery& it became successful.
It was then MIOT Hospital had arranged for a press meet to share the success of the rare kidney transplant. But the photo camera's flash light disturbed Sanjey that he had been getting tears for 2-3 days. Dr.RC advised us to have an Ophthalmologist opinion. She diagnosed that Sanjey has Cystinosis. Subsequently, my younger son Saran SivaArasu has most of the similarities like Sanjey (The physical growth was not corresponding to their age with kidney problem and bright light disturbed them a lot) He was also asked to consult ophthalmologist. It was very shocking that he also has Cystinosis. I had never heard of the term also and it was very scaring for me. But that time also Dr.Rajan Ravichandran gave us hope that you have medicine for their problem. When I enquired about the medicine CYSTAGON, I heard that it has to be imported, presently not available in India and also the medicine is very expensive. I was in panic. We could not afford to buy the medicine for both my kids. I approached many foundations to sponsor for the medicine. But no one responded to my appeal.
Dr.Rajan Ravichandran initiated for forming Cystinosis Chapter of India on 2 nd May 2012. I am so thankful to him that he guided us in getting the medicine.
Sanjey takes 150mg capsule and for Saran I dissolve the medicine with milk. He takes the medicine regularly every six hours. But when I wake him at midnight for the last dose of the day, he drinks the medicine in half sleep.
Taking medicine every day is not an easy one but being sick is even worse. So, both of them make it as a point of taking medicine regularly. They both go to school very regularly. They study well. I have also informed about their problem to theschool authorities. They give more considerations and take care of my kids. They are different. But, why should they be compared with other kids? They are very special to me and my husband. Life is unpredictable. No one knows what life will bring next moment. I have a strong belief that someday some research will find a medicine to cure such children's problem. A positive thought will always empower our mind and can change things in our life.
I am one of the members of Cystinosis Chapter of India. I can render any assistance for other Cystinosis patients/their families. If you need help,contact at sapiensfoundation@yahoo.com
Thank you all,